The Coronavirus has spread across the world, putting strains on many countries' health systems and forcing people to change their behaviour. Measures that have been put in place to reduce the spread of the virus include travel restrictions, border closures, social distancing, and self-isolation. In this new context, large international political events such as the annual climate conference COP and the G7-meeting have been postponed or moved online. International Organisations such as the United Nations Framework Convention on Climate Change moved their intersessional meetings online, making the eleventh meeting of the Executive Committee of the Warsaw International Mechanism for Loss and Damage (ExCom) its first fully online ExCom meeting. This meeting took place from the 10th to the 12th of March 2020, using Zoom, a digital application for online gatherings.
That meetings, conferences, and general decision-making increasingly take place online requires political ethnographers to rethink the way we observe. This blog post discusses some of my observations whilstdoing 'digital ethnography' based on my 'participation' in the eleventh ExCom Meeting.
Digital Ethnography
Digital ethnography is a sub-field of the larger ethnographic scholarship. So far, the literature on digital ethnography has tended to focus on ethnographies of how culture and society changes with the introduction of new technologies (see Heat et al. (2000), Coleman (2010) or Walker (2010)); ethnographic research on social media platforms (see Postill and Pink (2012) or Bonilla and Rosa (2015)), or how digital media such as video, audio, graphics or pictures can be used in ethnography (see Dicks et al. (2006), Murthy (2008), or Garett (2011).
The application of digital ethnography on live-streamed meetings is, to my knowledge, untrodden territory. However, as the world adjusts to the 'new normal' of social distancing and widespread remote working, this is a good time to explore how digital ethnography can contribute to the field of political science. What can we learn from observing live streamed meetings and how does one observe a meeting in which all the participants are in their own home or office, where some might use video while others use audio? These are important questions to ask as they might tell us important things about the power dynamics of that specific meeting and help us understand how certain outcomes may be reached. Here, I want to share three insights from my experience of observing physical and digital ExCom meetings.
What can be observed in digital meetings?
Digital meetings are similar to physical meetings in that they are both observable. The difference is in how we observe. In line with traditional political ethnography, I have previously observed a WIM ExCom meeting that took place in a physical space. There, I could map out and assign meaning to how participants sat in the room, who they talked to in the breaks and how participants reacted in non-verbal ways to what someone else said or did. In the digital ExCom meeting, I was not able to observe in the same way. Instead, I needed to find new parameters of how I observed and interpreted what happened during the meeting.
The first thing that struck me was the issue of fairness: how does one set up an international digital meeting that is fair to all the participants? The organisers will need to navigate issues such as who is required to be up in the middle of the night to participate and who participates in the meeting during their normal office hours? The ExCom meetings have previously taken place at the UNFCCC secretariat's headquarters in Bonn, Germany. As this meeting was originally intended as a physical meeting, it was not a surprise that the digital one was scheduled in the same time zone as Bonn. Consequently, Committee members from countries to the far East and far West of Europe participated in the middle of their night/early morning, while countries in European and African time zones could attend their meeting closer to what could be perceived as 'normal' office hours. This becomes a question of capacity and fairness because attending a meeting in the middle of one's night can influence a participant's concentration and ability to take strategic decisions.
My second observation concerned the level of participation of meeting participants: Who has access to a stable internet connection, efficient enough to use both audio and video without creating a lag? Who can access and share documents efficiently? Who cannot access the meeting at all? At the tenth ExCom meeting, which was physically hosted in Bonn in October 2019, all Committee Members were present, i.e. 10 members from 'developed' countries and 10 members from 'developing' countries. However, at the digital ExCom meeting, I noticed that the participation was down. In the virtual meeting, there were 17 participants, 10 from 'developed' countries and 7 from 'developing' countries. One potential reason for non-participation is international digital inequalities. According to cable.co.uk, broadband speed varies between countries. Figure 1 illustrates the mean downloading speed per country in 2019 (in megabyte per second (MB/s)). During the ExCom meeting, members from the Global North had better connectivity, reflecting broader trends in global broadband speed. Differential broadband speeds pose a challenge for the organisers in ensuring that Committee Members can participate but also poses a challenge for conducting political ethnography. How can we study the political dynamics between participants if some of them simply cannot access the digital space?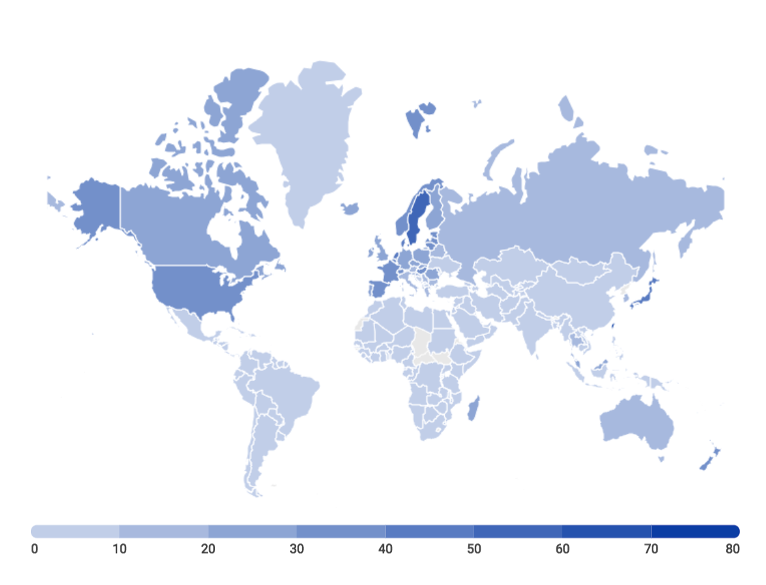 Figure 1. Map of countries mean broadband speed in 2019, measured in Mb/s.
My final observation concerns the accessibility of the group of participants referred to as Observers in the UNFCCC space. Observersare those who gain access to the meeting without being a Committee member. The group of Observers are a diverse group consisting of advocates from civil society, experts or advisors that have been invited to inform the discussion, other UNFCCC Party representatives that are interested in following the discussion, and researchers – like me – who attend the meetings to generate different forms of data for their research projects. Observers' participation is regulated and while they are at times invited to participate in discussions, this is often limited.
The co-chairs of the Committee often emphasise that Observers are welcome and appreciated in the meetings, however, the Committee can also close the meetings at any point. This happened during both ExCom meetings that I observed. While the level of observer participation was limited in both instances, the restriction took different forms. In the in-person meeting, Observers could make statements whereas in the digital one they could not. In the in-person ExCom meeting, the Observers were allowed to participate in most of the meeting activities, whereas in the digital meeting, observers were only allowed to listen in during the two first hours of the first day and 30 minutes on the last day. The result of this is that I could only generate ethnographic data from the opening of the meeting and from the briefing the co-chairs delivered to Observers before the meeting closed.
Observers might not get access to every aspect of an ExCom meeting, however, in the in-person meeting, I could still observe interactions such as body language to the parts the Observers do access. At a digital meeting, the observation was more restricted to analysing the voice of actors, limited video and chat comments. However, there are many ways in which power can be observed which is not restricted to physical spaces. The challenge lay in gaining further access to the live-streamed meeting so that ethnographers can identify the contextual parameters from which they can assign meaning. Thus, digital political ethnography is no different from traditional ethnography in that it requires the researcher to be dynamic, open-minded and creative in how we observe. With time and practice, I am certain that we will get there.
Finally, if you want to read about the discussion that took place during the ExCom, you can access meeting notes written collaboratively by members of the Research and Independent Non-Governmental Organisations, (RINGO) here.
Until next time, we at the CCLAD team hopes that everyone stays safe and well.
Bibliography
Bonilla, Y. & Rosa, J. 2015. #Ferguson: Digital protest, hashtag ethnography, and the racial politics of social media in the United States. American Ethnologist, 42, 4-17.
Coleman, E. G. 2010. Ethnographic approaches to digital media. Annual Review of Anthropology.
Dicks, B., Soyinka, B. & Coffey, A. 2006. Multimodal ethnography. Qualitative Research, 6, 77-96.
Garrett, B. L. 2011. Videographic geographies: Using digital video for geographic research. Progress in Human Geography, 35, 521-541.
Heath, C., Knoblauch, H. & Luff, P. 2000. Technology and social interaction: The emergence of 'workplace studies'. British Journal of Sociology, 51, 299-320.
Murthy, D. 2008. Digital ethnography: An examination of the use of new technologies for social research. Sociology, 42, 837-855.
Postill, J. & Pink, S. 2012. Social media ethnography: The digital researcher in a messy web. Media International Australia, 123-134.
Walker, D. M. 2010. The Location of Digital Ethnography. Cosmopolitan Civil Societies: An Interdisciplinary Journal, 2, 23-39.